---
IMPORTANT - READ BEFORE ORDERING!!!
More evaporators are being manufactured, constantly!
Demand is Extremely High!
We may run out, from time to time, so please be patient!
We have been in the Appliance Repair Business for over 35 years, so we are very aware that evaporators
are considered an emergency replacement item, since we have personally replaced hundreds, if not
thousands of them over 35 years.
Most of the time you can recharge the system, to get the customer by, until you receive the evaporator.

ORDER NOW, Below!
Please Be Patient, if they are out of stock!
We will ship orders in the order they come in, so do not delay in ordering, even if they are out of stock!

NON-OEM Replacement Evaporators for SubZero Refrigeration
Don't fall into this same trap, by having inexperienced techs install your evaporator!
Recent customer, Mr Leonard's, so-called Technician, Screw-up!
Please have a Qualified Technician Install your evaporator, so you don't have disastrous results,
like Mr Leonard did with his unqualified tech, that created this brazing disaster below: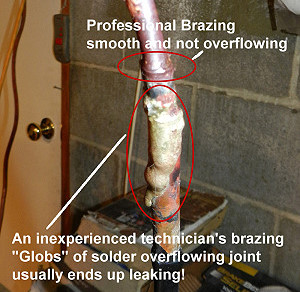 Mr Leonard sent this evaporator back to us, claiming that it had a leak in it,
and his so-called technician that attempted to install it, charged him a lot
of extra money to install a different evaporator, because he was not an experienced
and qualified technician, and totally messed up the installation,
leaving a leak in his amateur Solder joint! See pic above...

NO REFUNDS FOLKS!
Get a Qualified and Experienced Tech to install the evaporator!
Handymen, and the Average Customer
is NOT who should try to replace the evaporator!
Do not think you can watch a youtube video to do this job!
It is suggested that you DO NOT CALL A
SUBZERO AUTHORIZED SERVICE COMPANY!
ONLINE REVIEWS STATE THEY have been known to Severely Overcharge Customers,
and they also will NOT INSTALL AN EVAPORATOR YOU PURCHASE, and supply them!
To Find an Independent Service Company...
click here: Independent Service Company Locator


BEWARE of Imitations at Dramatically Higher Prices!
Every single Evaporator is Leak & Pressure Tested 3 times, Thoroughly
before being shipped out to you!
So, if you have a leak after installation, check your brazing joints,
because you left a leak, which is very common, even for experienced techs!
Evaporators are Not to be installed by just anyone,
but ONLY by an experienced and qualified sealed system service technician!
There are No Refunds/Returns, for incorrect installation and damage to the evaporator!
Summer Sale on Evaporators!
Evaporator

Model

Specs

USA Only
Buy Now!

International Only
Buy Now!

---


Refrigerator/Freezer
UV Dye Filter/Drier
Replacement for
Replacement for SubZero OEM 7006964
NEW for SubZero Refrigeration
Smaller in diameter/SAME Equivalent Filter!

100% XH-9 Beaded desiccant

Compatible with all new and existing refrigerants and oils.

Reduces wear & tear on component parts

Maximum working pressure 500psi.

Use on capillary or expansion valve systems.

Hermetically sealed, directional flow with access valve.

Copper shells and end tubes.

100 Micron filter sieve.

Easy break off grooved ends.

Reduces clogged capillary tubes.

Magnetic reduction filter reduces microscopic steel, iron, & stainless steel particles as the refrigerant passes through the system.

IN STOCK
USA ONLY

---

On Sale: $26.95
Retail: $30.95
SubZero OEM Price: $34.09

IN STOCK
International Only
ORDER HERE
If you are International
and you Order USA Only,
it will be Refunded! On Sale: $26.95
Retail: $30.95
SubZero OEM Price: $34.09

---

Accumulator
7016015

Accumulator
7/8 x 15-5/8
201R, 215R, 2411, 2511, 3211, 532, 550,
200/300
Use Regardless of Number
532
Use From #M564541 to M681565
Starting With Seril# M681565
This Part is Not Used
550
Use From #M564541 to M681565
Starting With Serial# M681565
This Part is Not Used

Not Available
Not Needed
Remove & Discard
Accumulator was used in production that Must be Discarded when evaporator is replaced

$65.75

Discard Accumulator

---

Accumulator
7015937

Accumulator
501R, 501F, 601F, 601F-2

Not Available
Not Needed
Remove & Discard
Accumulator was used in production that Must be Discarded when evaporator is replaced

Discard Accumulator

NON-OEM Evaporators Manufactured by ABA

---

7019397 Refrigerator Evaporator
without accumulator


Replaces Part# 4210350

201R, 215R
201R
Use From Serial# 227972 to #M385453/P380052
Starting with Serial# M385453/P380052
Use Pt# 7019393
Prior to Serial# 227972
UsePt# 7019407
215R
Use From Serial #227972 to #380577
Starting With Serial# 380577
Use Pt# 7019393
Prior to Serial# 227972
Use Pt# 7019407

Accumulator-Remove & Discard
Accumulator was used in production that Must be Discarded when evaporator is replaced

Make sure you are ordering the proper evaporator.
There are No Refunds!

MUST BE INSTALLED BY LICENSED & QUALIFIED TECHNICIANS OR WARRANTY VOID!

Due to this evaporator being considered oversized by the USPS, the shipping rate is slightly higher, than the smaller sized evaporators.

IN STOCK
USA ONLY

$190.00
SubZero OEM Price: $245.05

---

*NEW* - RUSH
Priority Shipping
(2-3 day)

International Only
ORDER HERE
If you are International
and you Order USA Only,
it will be Refunded!


$190.00

---


7019393 Refrigerator Evaporator
without accumulator

201R
Use Starting with Serial# M385453/P380052
From Serial# 227972 to #M385453/P380052
Use Pt# 7019397
Prior to Serial# 227972
Use Pt# 7019407
215R
Use Starting With Serial #380577
From Serial# 227972 to #380577
Use Pt# 7019397
Prior to Serial# 227972
Use Pt# 7019407

Accumulator-Remove & Discard
Accumulator was used in production that Must be Discarded when evaporator is replaced

Make sure you are ordering the proper evaporator.
There are No Refunds!

MUST BE INSTALLED BY LICENSED & QUALIFIED TECHNICIANS OR WARRANTY VOID!

Due to this evaporator being considered oversized by the USPS, the shipping rate is slightly higher, than the smaller sized evaporators.

IN STOCK
USA ONLY

$260.00
SubZero OEM Price: $316.01

---

*NEW* - RUSH
Priority Shipping
(2-3 day)

International Only
ORDER HERE
If you are International
and you Order USA Only,
it will be Refunded!


$260.00

---


7019407 Refrigerator Evaporator
without accumulator and rails

Evaporator, Std Field Rpl SVCE
(36" Wide Units)
NOTE: For Models Prior to The 200/300 Series
That are not listed, Part May Need to
Be Cut down to Match Existing Evaporator
201R
Use Prior to Serial# 227972
From Serial# 227972 to
#M385453/P380052
Use Pt# 7019397
Starting Serial# M385453/P380052
Use Pt# 7019393
215R
Use Prior to Serial #227972
From Serial# 227972 to #380577
Use Pt# 7019397
Starting with Serial# 380577
Use Pt# 7019393
241
Use Prior to Serial #227972
From Serial# 227972 to #303252
Use Pt# 7016122
Starting with Serial# 303252
Use Pt# 7016529
251
Use Prior to Serial #227972
From Serial# 227972 to #299952
Use Pt# 7016122
Starting with Serial# 299952
Use Pt# 7016040
2411
Use Prior to Serial #227972
Starting with Serial# 227972
Use Pt# 4210370
2511
Use Prior to Serial #227972
From Serial# 227972 to #299952
Use Pt# 7019405
Starting with Serial# 299952
Use Pt# 7016214

Accumulator-Remove & Discard
Accumulator was used in production that Must be Discarded when evaporator is replaced

Make sure you are ordering the proper evaporator.
There are No Refunds!

MUST BE INSTALLED BY LICENSED & QUALIFIED TECHNICIANS OR WARRANTY VOID!

Due to this evaporator being considered oversized by the USPS, the shipping rate is slightly higher, than the smaller sized evaporators.

IN STOCK
USA ONLY

$290.00
SubZero OEM Price: $368.30

---

*NEW* - RUSH
Priority Shipping
(2-3 day)

International Only
ORDER HERE
If you are International
and you Order USA Only,
it will be Refunded!


$290.00

---


7016122 Refrigerator Evaporator
without accumulator

241, 251
Tube, Ref Evap SVCE 5/16" x 16.8'
241
Use From Serial #227972 to #303252
Starting With Serial# 303252
Use Pt# 7016529
Prior to Serial #227972
Use Pt# 7019407
251
Use From Serial #227972 to #299952
Starting With Serial# 299952
Use Pt# 7016040
Prior to Serial #227972
Use Pt# 7019407

Accumulator-Remove & Discard
Accumulator was used in production that Must be Discarded when evaporator is replaced

Make sure you are ordering the proper evaporator.
There are No Refunds!

MUST BE INSTALLED BY LICENSED & QUALIFIED TECHNICIANS OR WARRANTY VOID!

Due to this evaporator being considered oversized by the USPS, the shipping rate is slightly higher, than the smaller sized evaporators.

IN STOCK
USA ONLY

$115.00
SubZero OEM Price: $130.43

---

*NEW* - RUSH
Priority Shipping
(2-3 day)

International Only
ORDER HERE
If you are International
and you Order USA Only,
it will be Refunded!


$115.00

---


7016529 Refrigerator Evaporator
without accumulator

241
Use Starting With Serial #303252
From Serial# 227972 to #303252
Use Pt# 7016122
Prior to Serial# 227972
Use Pt# 7019407

Accumulator-Remove & Discard
Accumulator was used in production that Must be Discarded when evaporator is replaced

Make sure you are ordering the proper evaporator.
There are No Refunds!

MUST BE INSTALLED BY LICENSED & QUALIFIED TECHNICIANS OR WARRANTY VOID!

Due to this evaporator being considered oversized by the USPS, the shipping rate is slightly higher, than the smaller sized evaporators.

IN STOCK
USA ONLY

$100.00
SubZero OEM Price: $111.81

---

*NEW* - RUSH
Priority Shipping
(2-3 day)

International Only
ORDER HERE
If you are International
and you Order USA Only,
it will be Refunded!


$100.00

---


7016040 Refrigerator Evaporator
without accumulator

251
Use Starting With Serial #299952
From Serial# 227972 to #299952
Use Pt# 7016122
Prior to Serial# 227972
Use Pt# 7019407

Accumulator-Remove & Discard
Accumulator was used in production that Must be Discarded when evaporator is replaced

Make sure you are ordering the proper evaporator.
There are No Refunds!

MUST BE INSTALLED BY LICENSED & QUALIFIED TECHNICIANS OR WARRANTY VOID!

Due to this evaporator being considered oversized by the USPS, the shipping rate is slightly higher, than the smaller sized evaporators.

IN STOCK
USA ONLY

$100.00
SubZero OEM Price: $105.00

---

*NEW* - RUSH
Priority Shipping
(2-3 day)

International Only
ORDER HERE
If you are International
and you Order USA Only,
it will be Refunded!


$100.00

---


7019405 Refrigerator Evaporator
without accumulator

2511
Use From Serial #227972 to #300252
Starting With Serial# 300252
Use Pt# 7016214
Prior to Serial# 227972
Use Pt# 7019407

Accumulator-Remove & Discard
Accumulator was used in production that Must be Discarded when evaporator is replaced

Make sure you are ordering the proper evaporator.
There are No Refunds!

MUST BE INSTALLED BY LICENSED & QUALIFIED TECHNICIANS OR WARRANTY VOID!

Due to this evaporator being considered oversized by the USPS, the shipping rate is slightly higher, than the smaller sized evaporators.

IN STOCK
USA ONLY

$195.00
SubZero OEM Price: $240.25

---

*NEW* - RUSH
Priority Shipping
(2-3 day)

International Only
ORDER HERE
If you are International
and you Order USA Only,
it will be Refunded!


$195.00

---


7016214 Refrigerator Evaporator
without accumulator

2511R
Use Starting With Serial #300252
From Serial# 227972 to #300252
Use Pt# 7019405
Prior to Serial# 227972
Use Pt# 7019407

Accumulator-Remove & Discard
Accumulator was used in production that Must be Discarded when evaporator is replaced

Make sure you are ordering the proper evaporator.
There are No Refunds!

MUST BE INSTALLED BY LICENSED & QUALIFIED TECHNICIANS OR WARRANTY VOID!

Due to this evaporator being considered oversized by the USPS, the shipping rate is slightly higher, than the smaller sized evaporators.

IN STOCK
USA ONLY

$135.00
SubZero OEM Price: $149.82

---

*NEW* - RUSH
Priority Shipping
(2-3 day)

International Only
ORDER HERE
If you are International
and you Order USA Only,
it will be Refunded!


$135.00

---


7019396 Refrigerator Evaporator
without accumulator
(Pic Not to scale)

3211/3211RFD
Use From Serial# 227972 to #299652
From #299652 to #M402308/P429835
Use Pt# 4200320
Starting #M402308/P429835
Use Pt# 7019392
Prior to Serial #227972
Use Pt# 7019406

Accumulator-Remove & Discard
Accumulator was used in production that Must be Discarded when evaporator is replaced

Make sure you are ordering the proper evaporator.
There are No Refunds!

MUST BE INSTALLED BY LICENSED & QUALIFIED TECHNICIANS OR WARRANTY VOID!

Due to this evaporator being considered oversized by the USPS, the shipping rate is slightly higher, than the smaller sized evaporators.

IN STOCK
USA ONLY

---

On Sale: $210.00
Retail: $225.00
SubZero OEM Price: $233.72

---

---

International Only
ORDER HERE
If you are International
and you Order USA Only,
it will be Refunded!


$210.00

---


7019392 Refrigerator Evaporator
without accumulator
(Pic Not to scale)

3211/321RFD
Use Starting With #M402308/P429835
From #299652 to #M402308/P429835
Use Pt# 4200320
From #227972 to #299652
Use Pt# 7019396
Prior to #227972
Use Pt# 7019406

Accumulator-Remove & Discard
Accumulator was used in production that Must be Discarded when evaporator is replaced

Make sure you are ordering the proper evaporator.
There are No Refunds!

MUST BE INSTALLED BY LICENSED & QUALIFIED TECHNICIANS OR WARRANTY VOID!

Due to this evaporator being considered oversized by the USPS, the shipping rate is slightly higher, than the smaller sized evaporators.

IN STOCK
USA ONLY

---

On Sale: $220.00
Retail: $240.00
SubZero OEM Price: $255.55

---

---

International Only
ORDER HERE
If you are International
and you Order USA Only,
it will be Refunded!


$220.00

---


7019406 Refrigerator Evaporator
without accumulator and rails
(Pic Not to scale)

3211/3211RFD
w/Rack
Use Prior to Serial# 227972
Starting With #M402308/P429835
Use Pt# 7019392
From #299652 to #M402308/P429835
Use Pt# 4200320
From #227972 to #299652
Use Pt# 7019396

Accumulator-Remove & Discard
Accumulator was used in production that Must be Discarded when evaporator is replaced

Make sure you are ordering the proper evaporator.
There are No Refunds!

MUST BE INSTALLED BY LICENSED & QUALIFIED TECHNICIANS OR WARRANTY VOID!

Due to this evaporator being considered oversized by the USPS, the shipping rate is slightly higher, than the smaller sized evaporators.

IN STOCK
USA ONLY

---

On Sale: $250.00
Retail: $265.00
SubZero OEM Price: $276.02

---

---

International Only
ORDER HERE
If you are International
and you Order USA Only,
it will be Refunded!


$250.00

---


4200320 Refrigerator Evaporator
without accumulator and rails

7016046

3211/3211RFD
w/Heat Exchanger/Rack/Drier
Use From #299652 to #M402308/P429835
Prior to Serial# 227972
Use Pt# 7019406
Starting #M402308/P429835
Use Pt# 7019392
From #227972 to #299652
Use Pt# 7019396

Accumulator-Remove & Discard
Accumulator was used in production that Must be Discarded when evaporator is replaced

Make sure you are ordering the proper evaporator.
There are No Refunds!

MUST BE INSTALLED BY LICENSED & QUALIFIED TECHNICIANS OR WARRANTY VOID!

Due to this evaporator being considered oversized by the USPS, the shipping rate is slightly higher, than the smaller sized evaporators.

IN STOCK
USA ONLY

---

On Sale: $330.00
Retail: $345.00
SubZero OEM Price: $352.72

---

---

International Only
ORDER HERE
If you are International
and you Order USA Only,
it will be Refunded!


$330.00

---


7014701PR Refrigerator Evaporator
Replaces Part# 3130240

Also Available Now!
New Refrigeration System
Rebuild/Restoration Kits


501R
Use Prior to Serial #1004775
Except Between
#M959920 to M960169
Starting w/Serial #1004775
& Between #959920-#960169
Use Pt# 4204410

Accumulator for:
501R, 501F, 601F, 601F-2
Not used with all Serial Dates
Check 1st to make sure you need it
Use Part# 7015937


Installation Instructions
Right click and "Save As"

501R Parts Manual Link

Make sure you are ordering the proper evaporator.
There are No Refunds!

MUST BE INSTALLED BY LICENSED & QUALIFIED TECHNICIANS OR WARRANTY VOID!

Due to this evaporator being considered oversized by the USPS, the shipping rate is slightly higher, than the smaller sized evaporators.

Dimensions:
29" wide
20" tall
1" deep

IN STOCK
USA ONLY

---

On Sale: $180.00
Retail: $215.00
SubZero OEM Price: $252.77

---

---

International Only
ORDER HERE
If you are International
and you Order USA Only,
it will be Refunded!

$180.00

---


4204410PR Refrigerator Evaporator
Replaces Part# 3130390

Also Available Now!
New Refrigeration System
Rebuild/Restoration Kits


501R, 601R, 601RG-2/3, 601RG-2/3

501R
Use Starting w/Serial #1004775
& Between #959920-#960169
Prior to Serial #1004775
Except Between
#M959920 to M960169
Use Pt# 7014701

601R, 601R-2/3
Use Regardless of Serial#

601RG-2/3
Use Regardless of Serial#


Installation Instructions
Right click and "Save As"

501R Parts Manual Link
601R Parts Manual Link
601RG Parts Manual Link

Make sure you are ordering the proper evaporator.
There are No Refunds!

MUST BE INSTALLED BY LICENSED & QUALIFIED TECHNICIANS OR WARRANTY VOID!

Due to this evaporator being considered oversized by the USPS, the shipping rate is slightly higher, than the smaller sized evaporators.

Dimensions:
28" wide
20" tall
1" deep

IN STOCK USA ONLY

---

On Sale: $185.00 Retail: $210.00
SubZero OEM Price: $266.18

---

---

International Only
ORDER HERE
If you are International
and you Order USA Only,
it will be Refunded!

$185.00

---


4204440PR Refrigerator Evaporator
Replaces Part# 3130280

Also Available Now!
New Refrigeration System
Rebuild/Restoration Kits


561/427/430
Use regardless of Serial# 427-2, 430-2

Use Pt# 3130640


Installation Instructions
Right click and "Save As"

561 Parts Manual Link
427 Parts Manual Link
430 Parts Manual Link


Make sure you are ordering the proper evaporator.
There are No Refunds!

MUST BE INSTALLED BY LICENSED & QUALIFIED TECHNICIANS OR WARRANTY VOID!

Dimensions:
15" wide
12" tall
1" deep

OUT OF STOCK
USA ONLY

---

On Sale: $140.00
Retail: $155.00
SubZero OEM Price: $172.13

---

---

OUT OF STOCK

International Only
ORDER HERE
If you are International
and you Order USA Only,
it will be Refunded!

$140.00

---


4204400PR Refrigerator Evaporator
Replaces Part# 3130270

Also Available Now!
New Refrigeration System
Rebuild/Restoration Kits


550/650

550
Use Regardless of Serial#

650
Use Prior to Serial #2128097
Starting with #2128097
Use Pt# 7009366


Installation Instructions
Right click and "Save As"

550 Parts Manual Link
650 Parts Manual Link

Make sure you are ordering the proper evaporator.
There are No Refunds!

MUST BE INSTALLED BY LICENSED & QUALIFIED TECHNICIANS OR WARRANTY VOID!

Dimensions:
29" wide
8" tall
1" deep

IN STOCK
USA ONLY

---

On Sale: $160.00
Retail: $170.00
SubZero OEM Price: $182.53

---

---

International Only
ORDER HERE
If you are International
and you Order USA Only,
it will be Refunded!

$160.00

---


4204420PR Refrigerator Evaporator
Replaces Part# 3130260

Also Available Now!
New Refrigeration System
Rebuild/Restoration Kits


511/532/590
611/611-2/632
632-2/690/695-2
---------------------------
511/532/590
611/632/690
USE REGARDLESS OF SERIAL#

532
USE REGARDLESS OF SERIAL#
Note: Prior to Serial #681566
an accumulator was used in production that Must be Discarded when evaporator is replaced

695-2
Use Prior to Serial #M2275455/#P2278219
Starting w/Serial# M2275455/ #P2278219
Use Pt# 7009366

611-2
Use Prior to Serial #2147190
Starting With Serial #2147190
Use Pt# 7009366

611G-2
Use Pt# 7009366

632-2
Use Prior to Serial #2128562
Starting With Serial #2128562
Use Pt# 7009366


Installation Instructions
Right click and "Save As"

511 Parts Manual Link
532 Parts Manual Link
590 Parts Manual Link
611 Parts Manual Link
632 Parts Manual Link
690 Parts Manual Link
695-2 Parts Manual Link

Make sure you are ordering the proper evaporator.
There are No Refunds!

MUST BE INSTALLED BY LICENSED & QUALIFIED TECHNICIANS OR WARRANTY VOID!

NEW
DESIGN
LESS WIDE
TO ALLOW
EASIER
REAR PANEL
INSTALL
*WORKS
EXACTLY
THE
SAME!!!

Dimensions:
24" wide
20" wide
16" tall
1" deep

OUT OF STOCK
USA ONLY

---

On Sale: $165.00
Retail: $185.00
SubZero OEM Price: $213.59

---

---

OUT OF STOCK

International Only
ORDER HERE
If you are International
and you Order USA Only,
it will be Refunded!

$165.00

---


4204430PR Refrigerator Evaporator
Replaces Part# 3130420

Also Available Now!
New Refrigeration System
Rebuild/Restoration Kits


542 / 580
642 / 680

542
Use regardless of Serial#

642/642-2
Use Prior to Serial #2143499
Starting with Serial #2143499
Use Pt# 7009366

680/685-2
Use Prior to Serial #M2270483/#P2290992
Starting with Serial #M2270483/#P22909926
Use Pt# 7009366


Installation Instructions
Right click and "Save As"

542 Parts Manual Link
642 Parts Manual Link
680 Parts Manual Link

Make sure you are ordering the proper evaporator.
There are No Refunds!

MUST BE INSTALLED BY LICENSED & QUALIFIED TECHNICIANS OR WARRANTY VOID!

Dimensions:
20" wide
16" tall
1" deep


OUT OF STOCK
USA ONLY

---

On Sale: $165.00
Retail: $185.00
SubZero OEM Price: $222.07

---

---

OUT OF STOCK

International Only
ORDER HERE
If you are International
and you Order USA Only,
it will be Refunded!

$165.00

---