Disclaimer: We are Not Affiliated with Sub-Zero, in any way, at all!
If you were looking for Sub-Zero's web site... click here

RefrigeratorPartReplacements can supply you with
All available SubZero Refrigerators/Freezers parts, and also repair assistance
Whatever problem you have we can help you with!
We are also now doing Nationwide Restoration Service on SubZero Refrigerators/Freezers!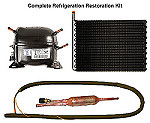 Available Now!
New Rebuild/Restoration Kits
Don't buy new, Restore your Unit!
click here
---
---
Service/ Repair Assistance below, for the repair you are needing!

Zoom Technical Repair Assistance
for Service Companies & Techs
... through Zoom Video

-->Convert R12 Systems to R134a Assistance<--

It's been falsely claimed since 1991, that converting R12 systems to R134a,
will cause sludging, and it is absolutely false! I have been converting them since 1991,
and not one system ever sludged up, or had any issue at all, but cooled perfectly!
The automotive industry has also been retro-fitting R12 to R134a, since 1991 also!
DO NOT PUT R12 COMPRESSORS IN ANYMORE, IT IS NOT THE PROPER REPAIR!



---
If you have any questions, please let us know.
Contact Email Address: Rtnoww@aol.com
---
RefrigeratorPartReplacements.com © 2023 All Rights Reserved
Sub-Zero Parts Sub-Zero Parts, sub-zero parts subzero parts, subzero refrigerator parts sub-zero refrigerator parts
Sub-Zero Parts Sub-Zero Parts, sub-zero parts subzero parts, subzero refrigerator parts sub-zero refrigerator parts
Sub-Zero Parts Sub-Zero Parts, sub-zero parts subzero parts, subzero refrigerator parts sub-zero refrigerator parts
Sub-Zero Parts Sub-Zero Parts, sub-zero parts subzero parts, subzero refrigerator parts sub-zero refrigerator parts
Sub-Zero Parts Sub-Zero Parts, sub-zero parts subzero parts, subzero refrigerator parts sub-zero refrigerator parts
Sub-Zero Parts Sub-Zero Parts, sub-zero parts subzero parts, subzero refrigerator parts sub-zero refrigerator parts
Sub-Zero Parts Sub-Zero Parts, sub-zero parts subzero parts, subzero refrigerator parts sub-zero refrigerator parts